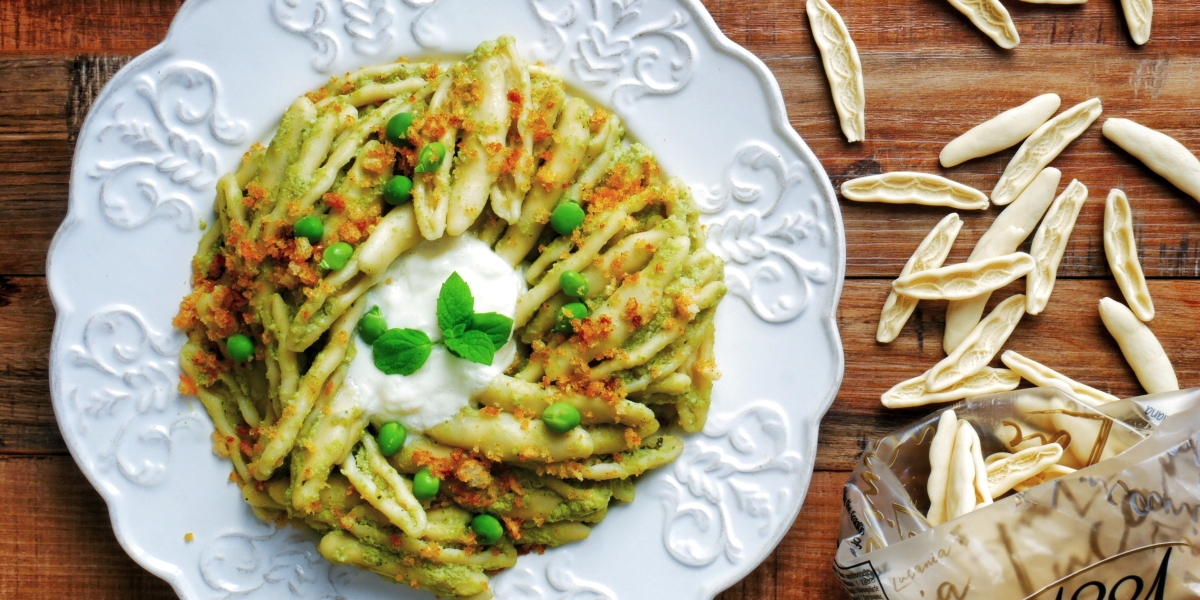 Strascinati with Broad Bean Cream and Stracciatella - Spring regional recipe with lemon and mint
On the occasion of Mother's Day, Silvia Tavella La Regina del Focolare cooked the strascinati with broad bean cream and stracciatella. The mashed beans and chicory is a typical recipe of Puglia and the neighboring regions; often with the leftover broad beans purée, the pasta is seasoned. And it is precisely from here that her idea of her originates, a regional spring recipe, with lemon and mint, to which she has added a handful of tender and crunchy peas and a heart of creamy stracciatella.
This is a #PastaYourWay recipe to promote social inclusion and environmental protection.
Ingredients
(4 people)
350 g of Strascinati
800 g of broad beans (to be cleaned)
400 g peas (small, to clean)
200 g of fresh stracciatella
4 tablespoons of extra virgin olive oil
1 lemon
10 fresh mint leaves
1 teaspoon of fine salt
1 tablespoon of coarse salt
2 chilli pepper taralli or 30 g of toasted bread crumbs with oil, salt and chilli powder
Preparation
Bring a large pot of water to the boil
While you wait for the boil, shell the beans and collect them in a bowl, then throw them in unsalted boiling water and let them cook for 10 minutes.
While the broad beans are cooking, shell the peas and set them aside
With the help of a slotted spoon, drain the beans without throwing the water and pour them into the glass of the mixer, then add the juice of ½ lemon, a tablespoon of extra virgin olive oil, fresh mint and salt, then blend everything
Blend very well and, if necessary, help us with a spoonful of cooking water
Add salt to the cooking water of the beans and throw in the pasta, making it cook for 14 min.