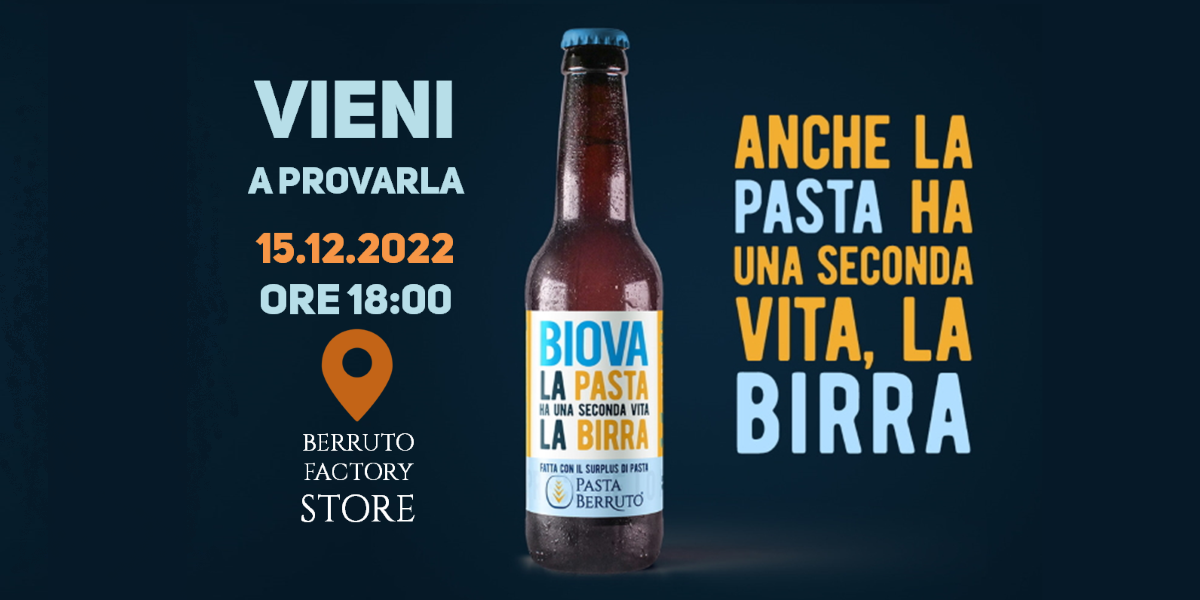 The fight against waste continues
SAVE THE PASTA - A NEW BEER IS BORN!
From the collaboration between Pasta Berruto and Biova Project, the first beer in the world made with pasta is born! This partnership was created thanks to the common sharing of corporate values, thoughts and philosophies such as respect for the environment and nature, the continuous search for innovation, especially in terms of sustainability.
In fact, this project stems from an urgency that we particularly feel, that relating to food waste. According to the FAO, 1/3 of all the food produced on the planet is lost or wasted every year, for a total of 900 billion euros. Food waste is certainly one of the biggest problems of our age, which is why each of us must do our part.
From this awareness comes Biova Pasta, the first beer made from pasta surplus, a circular economy project and fight against food waste.
Biova Project, whose mission is to create products capable of reducing food waste, has expanded its range by focusing on a new beer recipe made with broken dough. After a few months of tests, trials and checks it was possible to demonstrate that with 200 kg of scraps, 2,500 liters of excellent craft beer are obtained.
BIOVA PASTA is a beer with a soft taste and a slightly fruity aroma. Medium body, with hints of wheat and a golden color like the pasta it's made from!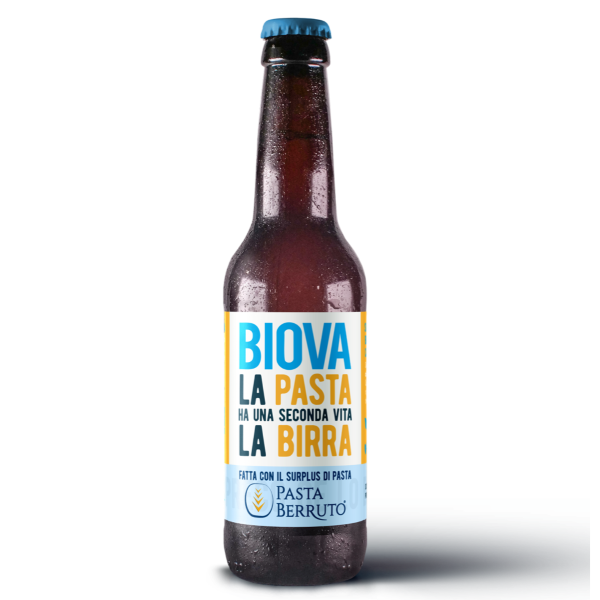 Matteo Berruto, CTO of Pasta Berruto, in this video explains how our production process works with regards to the management of waste: "during format changes, waste can be generated which can take two paths. Normally they go to the regrind and then re-enter our production cycle. In this case we decided to give these dry scraps to Biova Project to turn them into something just as good."
Franco Dipietro, CEO of Biova Project, talks about the project's mission and announces the arrival of this new product against waste: "the first beer made from pasta: a circular economy project and the fight against food waste, but also a great celebration of Italian gastronomic creativity."
We look forward to seeing you at the launch event at our Factory Store in Via Sommariva 139 in Carmagnola on 12/15 at 6pm.
You can always find the first beer made from pasta in the Pasta Berruto ONLINE SHOP at the introductory price of €2.59 or in the Biova Project SHOP, because WE ARE MADE OF THE SAME PASTA!