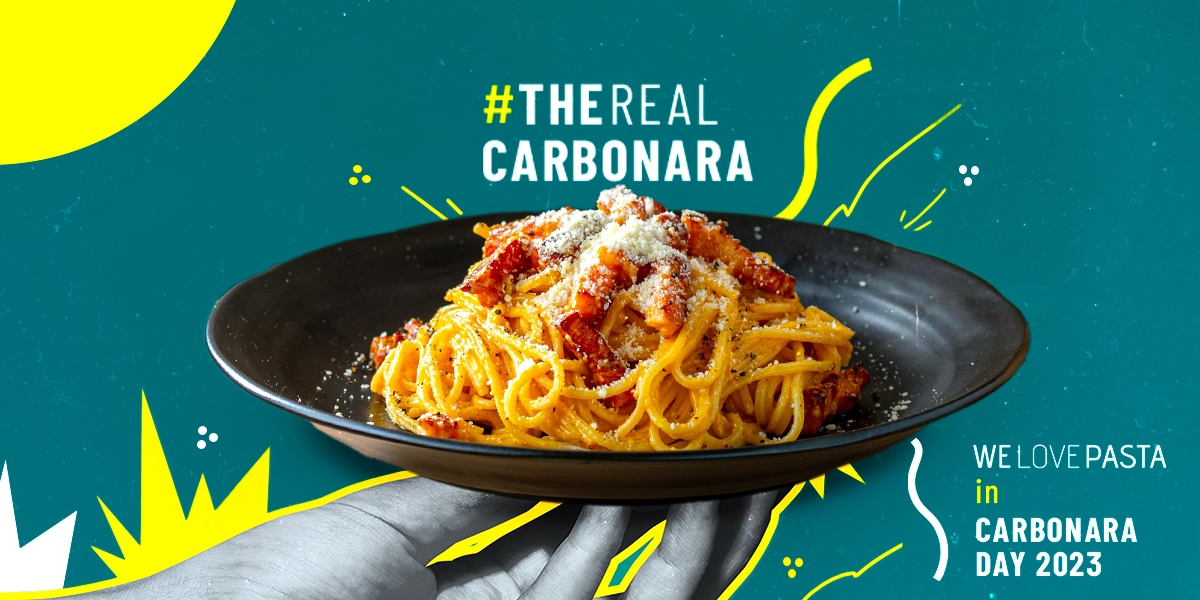 Carbonara Day 2023
This year it will be April 6th
Are you ready to express all your CREATIVITY?
Carbonara is a full-fledged comfort food. Prepared according to tradition, it is Rich and Creamy and requires very few and very simple ingredients, however it is also the recipe with the most variations... we call them DIFFERENTLY CARBONARA and we are still particularly fond of them!
But to start you need some ingredients, but which ones do you prefer?
Long or short pasta?
Guanciale or Pancetta?
Pecorino cheese?
Eggs, Salt and Pepper...at least let's be on the safe side about this...right?! :D
Do you already have everything in the PANTRY or in the FRIDGE?
SPAGHETTI
1 €
MEZZE MANICHE
1,7 €
We like to give space to your recipe because we think it's the BEST EVER... or at least for you!
So today we're giving you a discount code that you can use to go shopping and when you upload your recipe to our website, you'll receive another discount code and a gift!
In fact, we have created an area on our site that we call PastaYourWay which brings together various recipes.
How do you prepare the perfect carbonara?
Put a saucepan with plenty of salted water on the fire and bring it to the boil. Meanwhile, remove the rind from the bacon and cut it into slices just under 1cm thick.
Heat a large frying pan over medium heat and finish cutting the bacon into cubes. Add the guanciale to the hot pan without adding oil and let it brown. As the bacon fat melts, collect it and keep it.
Open the eggs and separate the yolks from the whites. We will only need the first ones for this recipe. With a whisk, beat the egg yolks for about a minute.
Put the spaghetti to cook in the pot of boiling water you have prepared.
Begin to add part of the bacon cooking fat to the egg yolks and whip them again.
Add freshly ground pepper at will to the egg and bacon fat mix. Whip with whisk.
Start adding a part of grated pecorino romano into the egg mix and work it again with the whisk.
Drain the pasta in a bowl and pour the egg and pecorino mix over it, stirring constantly. Turn off the heat under the bacon pan.
Add the guanciale to the pasta. Grab a plate and serve your spaghetti alla carbonara on the plate. Finish with the guanciale, freshly ground pepper and a little pecorino.
But you can be even more creative:
BOX KLIMT
9,90 €
BOX ORFEO
9,90 €
| | |
| --- | --- |
| | CON UNA CARBONARA NON CI STA BENE UNA BIRRA?! |
BIOVA PASTA BIRRA ARTIGIANALE
2,59 €
MAGLIETTA
9,90 €
PORTACHIAVI FARFALLA
15,90 €
| | |
| --- | --- |
| | CON LE BOX AVRAI LA SPEDIZIONE GRATUITA, PROVA SUBITO! |
LA BRONZO MAXI SCORTA
36 €
LA BIO
21,60 €
| | |
| --- | --- |
| | ECCO UN ESEMPIO DI DIVERSAMENTE CARBONARA :) |
PENNE RUVIDE UOVO E GUANCIALE