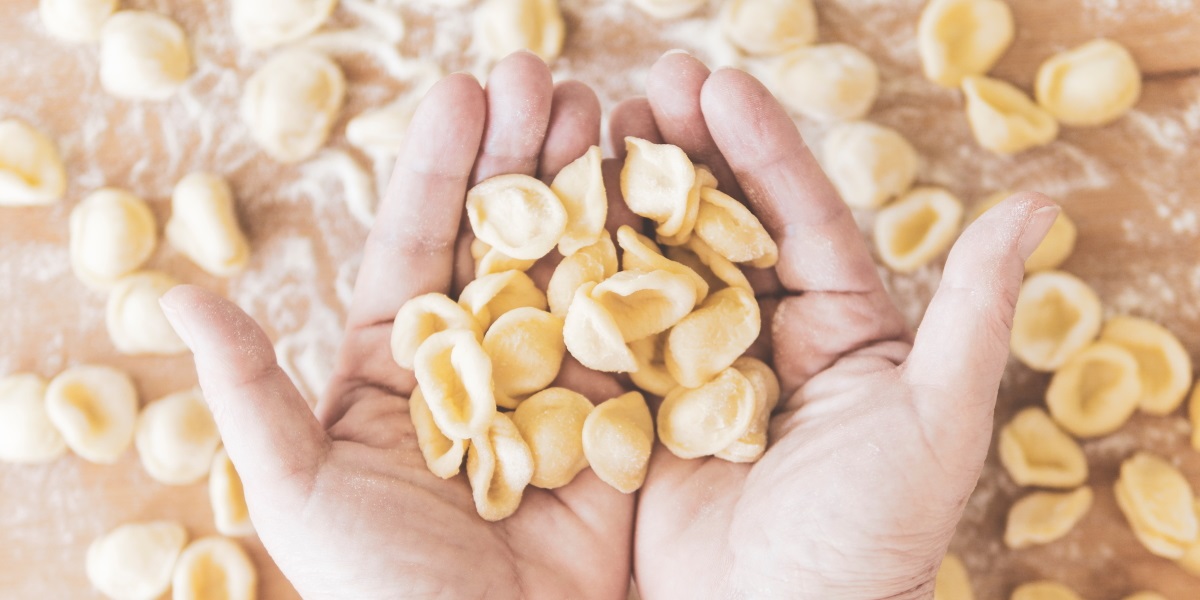 Le Regionali 1881
By tasting one of these pasta shapes, typical of some Italian regions, you will be able to experience the aromas, tastes and flavors, exactly as if you were traveling. The slow drying and processing method faithfully recreate the artisanal, hand-made process.
You will find 5 formats: kneaded pasta, produced with durum wheat of Italian origin, slow drying
TROFIE: typical Ligurian format. Liguria is a region of north-western Italy; its capital is Genoa.
Its territory is crossed by the mountain ranges of the Alps and the Apennines.
Liguria borders France (Provence-Alpes-Côte d'Azur) to the west, Piedmont to the north and Emilia-Romagna and Tuscany to the east.
It is located on the Ligurian Sea.
The region is part of the Alps-Mediterranean Euroregion.
ORECCHIETTE: typical Apulian format. The Apulian coast is longer than that of any other continental Italian region.
To the north, the Gargano promontory extends into the Adriatic like a "spur", while to the south the Salento peninsula forms the "heel" of the Italian boot.
The highest peak in the region is Mount Cornacchia (1,152 meters above sea level) within the Daunian Mountains, north along the Apennines.
CAVATELLI: typical Molise format. Molise borders Abruzzo to the north, Puglia to the east, Lazio to the west and Campania to the south.
It has 35 kilometers (22 miles) of sandy coastline to the northeast, which lies on the Adriatic Sea and looks towards the Tremiti Islands.
The Molise countryside is mainly mountainous, with 55% covered by mountains and most of the rest by hills that descend towards the sea.
STROZZAPRETI: typical Emilian format. Emilia-Romagna is one of the richest and most developed regions in Europe.
Bologna, its capital, has one of the highest quality of life indices in Italy and advanced social services.
Emilia-Romagna is also a cultural, economic and tourist center: seat of the University of Bologna, the oldest university in the world; containing Romanesque and Renaissance cities (such as Modena, Parma and Ferrara) and the ancient capital of the Eastern Roman Empire of Ravenna; which includes eleven UNESCO heritage sites; being a center for food and automotive manufacturing.
STRASCINATI: typical Lucanian format. Lucania was an ancient area of ??southern Italy. It was the land of the Lucanians, a people of Oscan. It stretched from the Tyrrhenian Sea to the Gulf of Taranto. It bordered the Sannio and Campania to the north, Puglia to the east and Calabria to the southwest. It therefore included almost the entire modern region of Basilicata, the southern part of the province of Salerno (the Cilento area) and a northern part of the province of Cosenza.
#italianexcellence #pastaberruto #pastacarmagnola #pastapiemonte #pastaYourWay # 1881byStefanoBerruto #granoduroitaliano