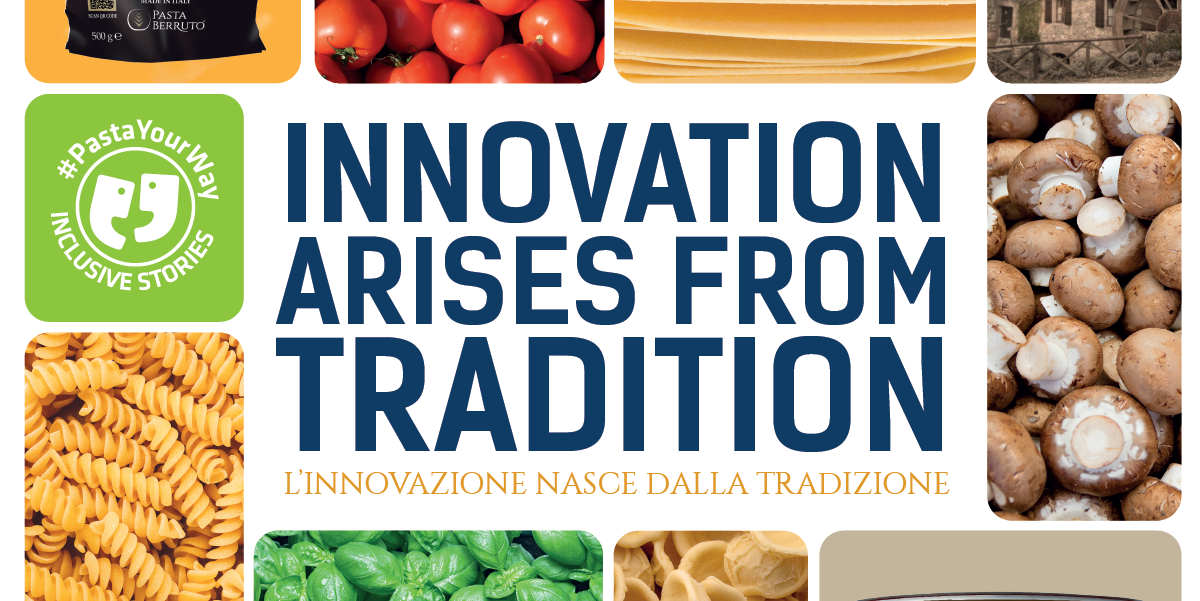 Pasta Berruto at Sial
Come and visit us at SIAL: Hall 5 B Stand K039
We will present our best interpretation of the concept: innovation meets tradition

As you can see, the focus is precisely on making a 140-year history dialogue with a present and a future made up of new ways of consumption, new ingredients, new recipes, new cooking methods and perhaps even new consumers.
From regional specialties to the Pasta Cup, the step is not easy: we aim with courage to conquer the final consumer while maintaining great attention to the pasta tradition.
Innovate while remaining anchored to one's own identity; working for the foreign consumer, intriguing even the Italian one, this is the spirit.
140 years of history behind it and the propensity to explore new markets make Pasta Berruto an Italian pasta of pure quality.

The uniqueness of Stefano Berruto's Le Regionali 1881
The Regionali 1881 by Stefano Berruto is the flagship line of Pasta Berruto. It includes orecchiette, trofie, strascinati, strozzapreti and cavatelli, all pasta shapes typical of the different Italian regions, made with an artisanal method. Small gnocchi are made from the dough, which are then crushed to take shape. Pasta does not come from drawing, but from real dough. This is why it has unique characteristics: pronounced porosity and roughness, which allow the line to stand out in the market.

We bring the products of the true Italian tradition across the border. For this mission we have invested in a highly innovative product, the Berruto Pasta Cup.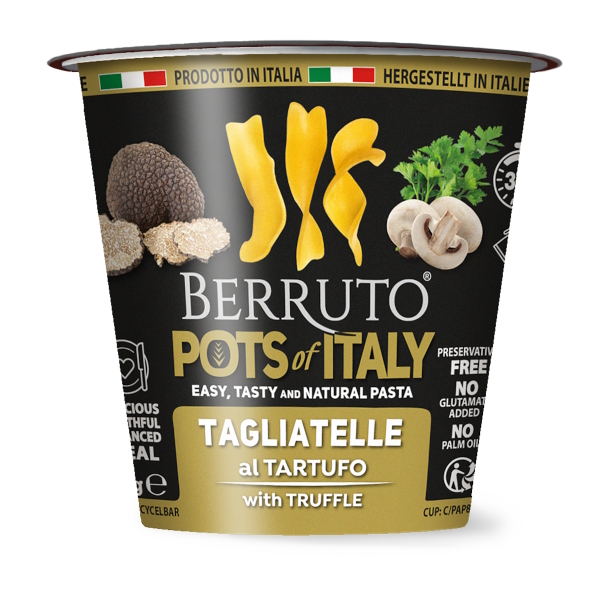 A NEW STYLE, ALWAYS IN THE NAME OF INNOVATION
The innovation of Pasta Cups adopts the concept of tagliatelle, known and appreciated all over the world, and adapts it to one of the most famous Italian dishes: pasta. Create a new proposal "in the cup", made with top quality ingredients and a natural production method.
With this product, on the one hand we emphasize our Italian character and competence in the field of pasta, on the other we defend, making it more captivating, a consolidated ritual.

Ready in three minutes, the cup only needs water to hydrate the pasta and gravy. The pasta is produced by us and, after drawing, pre-cooked, dried and mixed with the dehydrated sauce, which is supplied to us by Italian producers.
At Sial in Paris we will present the restyling of all the packaging, to respond to the request for greater naturalness of the packaging.
We will present five new flavors: tagliolini with truffles, macaroni with cheese and pepper, fusilli with curry and vegetables, leek and potato soup, legume soup. Three of the new entries, together with the classic Penne all'arrabbiata, also meet the vegan trend. A plus that will be highlighted on the package, with the VeganOk certification.

FIND OUT MORE, COME AND VISIT US AT SIAL HALL 5B STAND K039
SIAL https://www.sialparis.com/
#pastaberruto #pastayourway #inclusive #storie #persone #condividi #progetto #chef